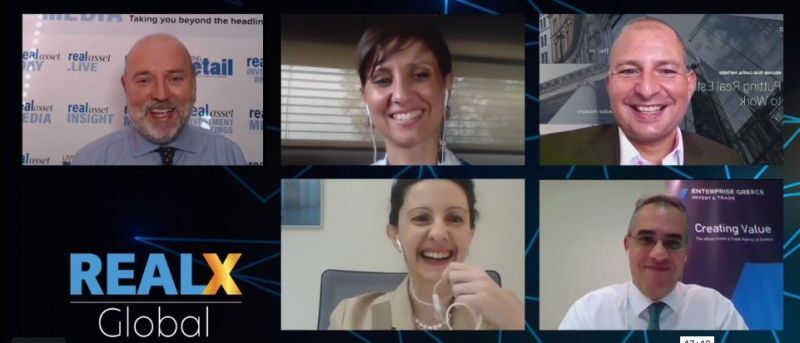 Our MD Tassos Kotzanastassis participated as a panelist in the RealX Global virtual conference, which took place on September 18th.
Attractive prices, undersupply and friendly policies are what will drive real estate investors to the Greek market, experts agreed at the Market Snapshot: Investing in Greece briefing, which was held online at RealX Global, the first virtual trade fair organised by Real Asset Media.
'Greece is very attractively priced compared to other European markets and there are many opportunities because of a lack of development,' said Eri Mitsostergiou,
director of European research, Savills. 'There are elements of risk but also a path to recovery and the expectation of a bounce back next year'.
After years of little or no development following the crisis the market is very undersupplied and there are many obsolete buildings.
'We've recently moved in as investors in Greece after acting as advisors for the last few years', Tassos Kotzanastassis, founder & managing director, 8G Capital Partners. 'There is political stability at last, and I see a genuine commitment from the Government to cut red tape and attract investment with friendly policies. We now see Greece as a compelling opportunity'.
'Dire need for data centres' : Mitsostergiou
Hospitality has traditionally been the most attractive sector for foreign investors, but there are opportunities in all asset classes. 'There is a striking undersupply of offices and a dire need of data centres,' said Mitsostergiou. 'Greece is a gateway for Chinese trade into Europe, so Logistics and infrastructure investments are needed as well'.
The privatisation programme offers investors a wide range of opportunities in real estate and infrastructure on the mainland and on the islands and the authorities are willing to fast-track projects.
Residential is also attractive because of the need for good quality housing. Greece 'could be a test-bed for a mingling of hospitality and residential, as the lines between asset classes are blurring', said Mitsostergiou. 'The government is offering great incentives to retirees, so there could be an opportunity in offering them resi products and combining them with healthcare'